Non contact radar level transmitter for liquid water and diesel oil tanks
non contact radar level transmitter
liquid level transmitter
liquid level radar
level transmitter radar type
tank level transmitter
1. The Measurement Principle:
Antenna system to launch and microwave receiving energy is very low, very short pulse. Radar waves travel with the speed of light. The running time can be through the electronic components are converted into a signal. Measurement of this special time extension method can realize stable, accurate in a very short period of time.
Even if the condition is very complex, the presence of false echo, with the latest micro-processing technology and debugging software also can analyze the level echo accurately.
Microwave antenna to receive the reflected pulse and transmitted to the electronic circuit, a microprocessor to signal processing, to identify the micro pulse generated on the material surface echo. Echo recognition is completed by the pulse system, the accuracy can reach millimeter level. From the material surface distance between D and T pulse is proportional to the time travel:
D=C×T/2
Where C is the speed of light
Because of the air tank is a known distance E, L:
L=E-D
By setting the empty tank height E (= zero), the full height of F (= full scale) and some application parameters, application parameters automatically makes the instrument to measure the environment. 4 - 20mA with a corresponding output.
2. Product Introduction
Suitable for Medium: Liquid, slightly corrosive liquid
Explosion-proof Grade: Exia IIC T6 Ga/ Exd ia IIC T6 Ga
Measuring Range: 20m
Aerials: The Rod Antenna ( PP/PTFE )
Frequency: 6 GHz
Temperature: (-40 ~ 130) ℃
Measurement Precision: ±10mm
Process Pressure: (-0.1 ~ 0.3) MPa
The signal Output: (4 ~ 20) mA/HART
The Scene Display: Four LCD
Power Source: Two-wire (DC24V)
Four-wire(DC24V/AC220V)
Repeatability: ± 1mm
Shell: Aluminum
Connection: Flange (optional) / Thread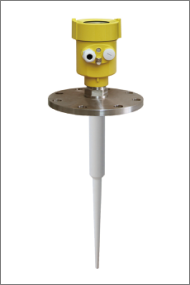 Suitable for Medium: Liquid, especially for corrosive liquid
Explosion-proof Grade: Exia IIC T6 Ga/ Exd ia IIC T6 Ga
Measuring Range: 20m
Aerials: The Rod Antenna (PTFE)
Frequency: 6 GHz
Temperature: (-40 ~ 180) ℃
Measurement Precision: ± 10mm
Process Pressure: (-0.1 ~ 4) MPa
The Signal Output: (4 ~ 20) mA/HART
The Scene Display: Four LCD
Power Source: Two-wire (DC24V)
Four-wire(DC24V/AC220V)
Repeatability: ± 1mm
Shell: Aluminum
Connection: Flange (optional)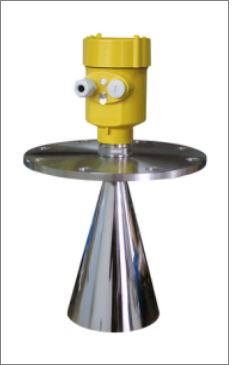 Suitable for Medium: Liquid, especially with pressure and Volatile Liquid
Explosion-proof Grade: Exia IIC T6 Ga/ Exd ia IIC T6 Ga
Measuring range: 35m
Aerials: The Horn Antenna
Frequency: 6 GHz
Temperature: (-40 ~ 250) ℃
Measurement Precision: ± 10mm
Process Pressure: (-0.1 ~ 4) MPa
The Signal Output: (4 ~ 20) mA/HART
The Scene Display: four LCD
Power Source: Two-wire (DC24V)
Four-wire(DC24V/AC220V)
Repeatability: ± 1mm
Shell: Aluminum
Connection: Flange (optional)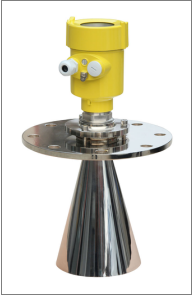 Suitable for Medium: Solid particles or block material,
And it is not suitable for solid powder
Explosion-proof Grade: Exia IIC T6 Ga/ Exd ia IIC T6 Ga
Measuring Range: 35m
Aerials: The Horn Antenna
Frequency: 6 GHz
Temperature: (-40 ~ 250) ℃
Measurement Precision: ± 20mm
Process Pressure: (-0.1 ~ 0.1) MPa
The Signal Output: (4 ~ 20) mA/HART
The Scene Display: Four LCD
Power Source: Two-wire (DC24V)
Four-wire(DC24V/AC220V)
Repeatability: ± 1mm
Shell: Aluminum
Connection: Cardan Flange (optional)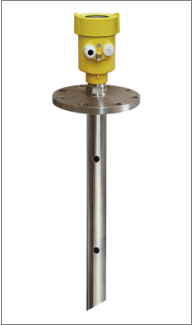 Suitable for Medium: Liquid, especially suitable for low dielectric constant, sticky, with mixing liquid
Explosion-proof Grade: Exia IIC T6 Ga/ Exd ia IIC T6 Ga
Measuring Range: 30m
Aerials: The Horn Antenna
Frequency: 6GHz
Temperature: (-40 ~ 250) ℃
Measurement Precision: ± 10mm
Process Pressure: (-0.1 ~ 4) MPa
The Signal Output: (4 ~ 20) mA/HART
The Scene Display: Four LCD
Power Source: Two-wire (DC24V)
Four-wire(DC24V/AC220V)
Repeatability: ± 1mm
Shell: Aluminum
Connection: Flange (optional)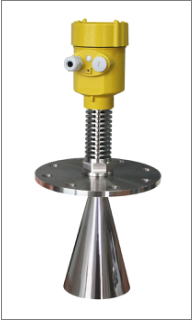 Suitable for Medium: Solid, especially suitable for high temperature conditions
Explosion-proof Grade: Exia IIC T6 Ga/ Exd ia IIC T6 Ga
Measuring Range: 15m
Aerials: The Horn Antenna
Frequency: 6 GHz
Temperature: (-40 ~ 400) ℃
Measurement Precision: ± 20mm
Process Pressure: (-0.1 ~ 0.1) MPa
The Signal Output: (4 ~ 20) mA/HART
The Scene Display: Four LCD
Power Source: Two-wire (DC24V)
Four-wire(DC24V/AC220V)
Repeatability: ± 1mm
Shell: Aluminum
Connection: Flange (optional)